Press release
Nanoleaf -­‐ a Refreshing Twist to Green Technology
(November 20, 2014) -­‐-­‐ Nanoleaf is a creative green technology company, whose products are energy efficient in nature, but also designed with consumers in mind. Last year, the young startup wow-­‐ed us with the world's most energy efficient LED light bulb -­‐ and now it is finally available for sale in stores near you! They have also added the Nanoleaf Bloom to the line up, the first dimmable light bulb that dims without a dimmer switch.
"We want to inspire people to adopt more energy efficient technology," says Co-­‐Founder and CEO Gimmy Chu. "The best way to do this is by making products not only more energy efficient, but also more aesthetically and functionally desirable."
Cool on the outside
Who said light bulbs can't also be a part of the home decor? The Nanoleaf One and Nanoleaf Bloom bulbs have an edgy abstract feel to their appearances. The bulbs are produced through an origami-­‐like process where cut outs of PCB (printed circuit board) with all the circuitry in place are folded into the final dodecahedron shape. The Nanoleaf bulbs will look good both on and off, giving consumers a whole new lighting experience.
Green on the inside
Beyond the distinctive design, Nanoleaf products are green to the core. All manufacturing are packaging material are carefully sourced with the environment in mind. Compared to a traditional incandescent light bulb, Nanoleaf products are up to 88% more energy efficient, lowering the overall carbon footprint of the consumer.
Furthermore, the Nanoleaf team is passionate about giving back to the community. "Through our partnership with The World Green Organisation, we are looking forward to promoting sustainability promotion to our society as well as play an active role in our local community," says Co-­‐Founder and COO Christian Yan.
Whats next?
Nanoleaf does not plan to stop here. They are working on expanding their global footprint while exploring new innovations to add to their product line-­‐up. "At Nanoleaf, we are constantly innovating," says Tom Rodinger, Co-­‐Founder and Chief Innovation Officer. "The Nanoleaf One and Nanoleaf Bloom is just an appetizer, and we will be coming up with newer and awesomer products. We are just getting started."
The Nanoleaf One and the Nanoleaf Bloom will be released in Hong Kong late-­‐November, available in
selected Fortress, Parknshop and lifestyle stores.
About Nanoleaf
Nanoleaf is a green technology company with a mission to create a more sustainable future through continued innovations of highly energy efficient products. Founded by University of Toronto graduates Tom Rodinger, Gimmy Chu and Christian Yan in 2012, the three young entrepreneurs walked away from their high-­‐paying corporate jobs and dedicated their efforts to creating innovative green products. With their out-­‐of-­‐the-­‐box thinking and their uncompromising attitude toward energy efficiency, they created the Nanoleaf One. Made from PCB (printed circuit board), the bulb is designed to dissipate heat very efficiently and is also shatter resistant. Using only 12 watts of energy, a Nanoleaf bulb can achieve the same brightness as a 100 watts equivalent light bulb. As they continue to grow, Nanoleaf is set to bring us a brighter future.
At Nanoleaf, they believe a simple flip of a switch can change the world. The Nanoleaf bulb is more than just a light bulb – It is a symbol for innovation and a symbol of hope for a better future. By owning a Nanoleaf bulb, consumers are constantly reminded of the infinite possibilities that innovative thinking can create; people are no longer simply lighting up their homes, they are also lighting the path to a revolution in energy conservation.
Nanoleaf One:
-­‐ Made from printed circuit board (PCB), folded into a unique dodecahedron design
-­‐ Uniform 360 degrees light distribution, unlike traditional LED lights which are omnidirectional
-­‐ Two models available with different brightness: 1200 lumens and 1600 lumens
-­‐ Can reach up to 133 lumens per watt (efficacy), the most energy efficient light bulb on the market
-­‐ 88% more efficient than traditional incandescent bulbs through effective heat dissipation
Nanoleaf Bloom:
-­‐ Dimmable in regular non-­‐dimming on/off fixtures, replacing dimmer switches
-­‐ Set the perfect ambience for every occasion
-­‐ Dimming feature can lower energy usage, will help reducing carbon footprint
-­‐ Instant access to night mode, which only uses 0.5 watts of energy
-­‐ Just as energy efficient, durable and long-­‐lasting as the Nanoleaf One
-­‐ Never overheats, safe to install and use in most common fixtures
About World Green Organisation (WGO)
WGO is an independent non-­‐governmental organisation concerned with environmental conservation and environmentally related livelihood and economic affairs. It provides a holistic approach to a fully integrated three-­‐pronged solution that combines social, environmental and economic aspects for
an environmental revolution.
The Founders
Gimmy Chu
Chief Executive Officer
B. Sc., University of Toronto
Gimmy is our fearless leader, also the schemer of the company. When he's not busy strategizing, he finds himself on a surfboard, tunneling waves and enjoying the vast open waters. He also has an adorable Jack Russell named Cookie, whom is his biggest fan.
As an University of Toronto graduate, Gimmy has over 7 years of experience as a technology consultant with immense experience in management. In addition to setting the tone and future of the company, he is also managing the planning and execution of the Nanoleaf products.
Tom Rodinger
Chief Innovation Officer
B.Sc. McMaster University | Ph.D, University of Toronto
Tom is our ingenious scientist and engineer, the brain behind the Nanoleaf. Other than saving the world one invention at a time, he enjoys escaping to the great outdoors. He is a rock-­‐climbing aficionado, with a passion for science and technology.
Tom has over 20 years of experience in electronics and circuit design and is the mastermind behind the technology within the Nanoleaf. For over 9 years, he mentored and led university students in building several fully functional solar powered cars that raced across the USA and Australia.
He also worked in the biotechnology industry as a scientist, developing new innovative algorithms for predicting drug effectiveness against cancer and lupus diseases. Tom is now focused on developing the new arsenal of Nanoleaf products, as well as improving existing manufacturing procedures.
Christian Yan
Chief Operations Officer
B. Sc., University of Toronto
Christian is our operations mastermind, the man that keeps the wheels turning. Aside from wooing suppliers into joining our cause, he also has a knack for inducing laughter. Snowboard, wakeboard, or circuit board...you name a board, and he is an expert.
Christian was a General Manager for a manufacturing facility in Guangzhou, China. Over 7 years, he was involved in the designing, sourcing, and manufacturing of several new products for many of his established clients in Europe (distributors and chain stores). For the development of the Nanoleaf LED bulb, he has helped source and develop strong relationships with many of our key suppliers in China, and is responsible for setting up the manufacturing process.
For more information about the Nanoleaf Bloom and Nanoleaf One, please visit: www.nanoleaf.me
For product and sales queries please contact the following authorized agent:
Qool International Limited
Tel:(852) 3106 3338
Email:[email protected]
Website:www.qool.hk
Appendix 1.
Imagine keeping a light on for a year….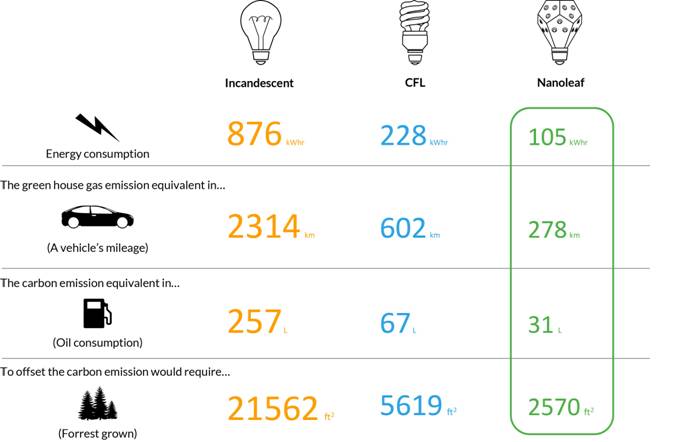 If one bulb can make this big of a difference….
Imagine what an entire city of them can do.
* All data solicited from the U.S. Environmental Protection Agency. EPA.gov